Big Al
Super Expert

United Kingdom
5528 Posts
Posted - 10 March 2016 : 5:09:44 PM
---
Classics at the Castle
Sunday, July 17, 2016

Hi Chaps, yes it's that time of year again, and as last year this event is organised by a " not- for - profit" company formed by 'Yeo Vale' and 'Sherborne Castles' Rotary Clubs,this year raising funds for 'Cancer Research UK ' and local charities.
More than 1,600 fabulous cars are expected to be on display in the magnificent lakeside grounds of the Castle for the use of which we thank the owners Edward and Maria Wingfield-Digby

More to follow :-

Lanchester LA10, 11,12/6,& 14hp Registrar(DLOC)
Lanchester,a car for every occasion.


To say it's a hobby is slightly distorting the truth ...........It's an OBSESSION!!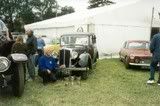 https://picasaweb.google.com/116325362331314323618/ReadyForMyStepDaughtersWedding?authuser=0&authkey=Gv1sRgCMCrm7v_8OuCRQ&feat=directlink
---
Edited by - Big Al on 10 March 2016 7:47:22 PM